Dental Implants to Replace Missing Teeth
Dental implants are prosthetic tooth roots that are typically made of titanium. They are widely regarded as the best teeth replacement option available today. At our Monroe, CT, practice, Drs. John G. Fatse and John S. Scovic can complete all phases of dental implant treatment in one convenient location. Here, we will explore the dental implant treatment process as well as benefits and candidacy.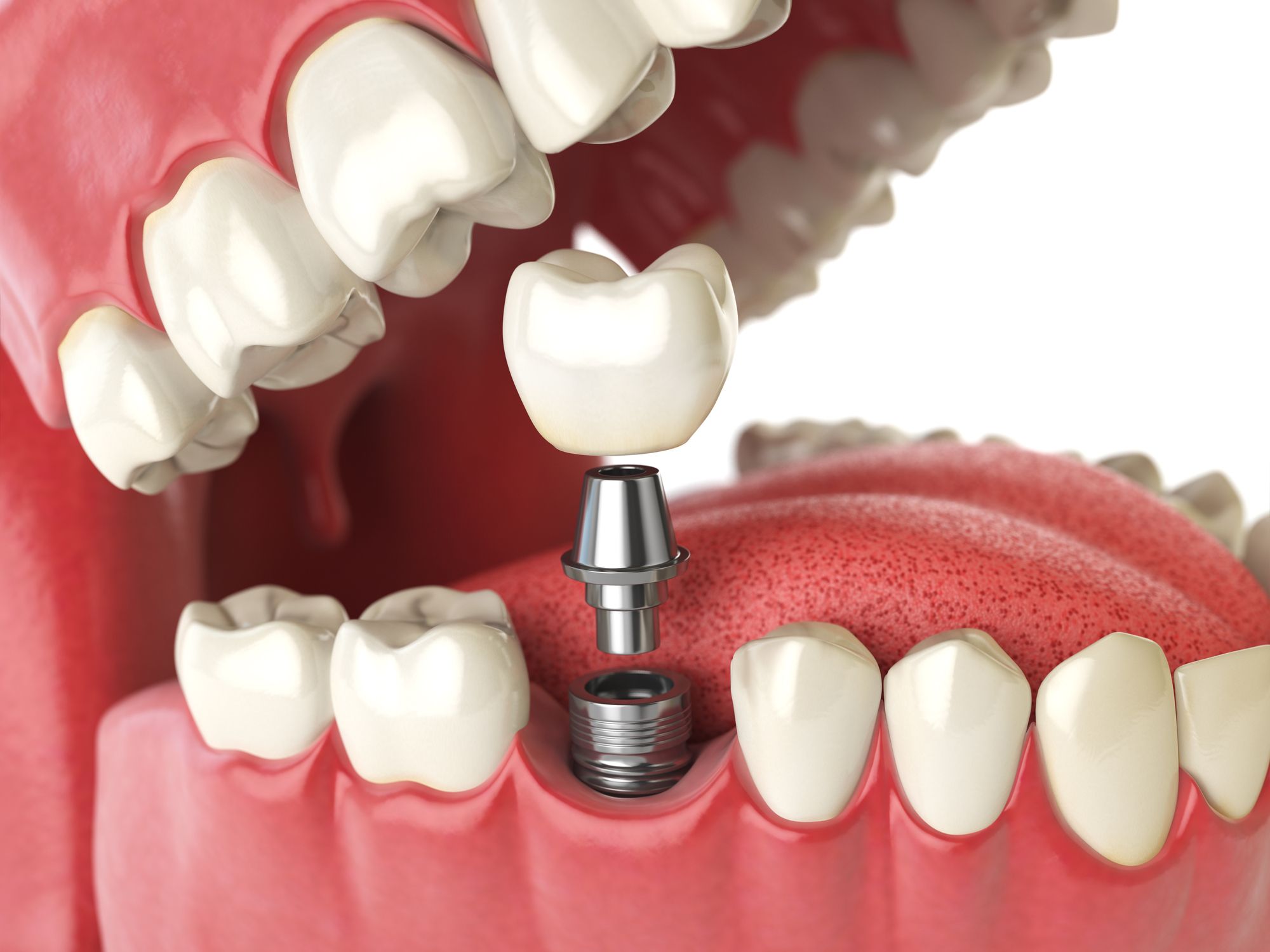 Am I a Candidate for Dental Implants?
Patients in good general and oral health are typically eligible for dental implant treatment. Candidates should be free from gum disease, extensive decay, and other serious dental issues. In addition, they should not smoke or have any health conditions that would compromise the healing process or increase the risks of surgery, such as uncontrolled diabetes.
Bone Grafting before Dental Implants
Individuals considering dental implants must have sufficient bone density. In order to be successful in the long term, a dental implant must be embedded in a specific amount of healthy jawbone tissue. This principle can be compared to building a fence in that each post needs a proper foundation in order to remain upright and bear weight. Without the proper amount of bone tissue, an implant will fail.
If you have been missing a tooth for a long time, you have probably suffered some degree of bone atrophy. Fortunately, a preparatory bone grafting procedure can replace lost tissue and restore your eligibility for implants. This treatment can improve the dimensions of your jawbone, providing a solid foundation for the implant posts. Bone grafts can be performed in the upper or lower jaw.
If you have been missing an upper molar for a prolonged period of time, the resulting bone atrophy can cause the sinus membrane to drop into the area once occupied by tooth roots. In these cases, a sinus lift can be performed to raise the membrane back to its proper location. Bone grafting material is added in order to keep the sinus membranes in place while creating a proper foundation for your implant.
Alternatively, you may qualify for mini dental implants, which require less bone tissue for support than traditional implants.
During your initial consultation, your doctor will discuss your options with you. If bone grafting is a necessary part of your treatment plan, we will explain the procedure, timeline, and cost with you in detail.
What to Expect during Treatment
Before you can undergo dental implant surgery, your doctor must see you for a comprehensive examination. During this visit, Dr. Fatse or Dr. Scovic will assess the health of your teeth, gums, and jawbone. Next, a personalized treatment plan will be created to meet your needs.
If you have a damaged or decayed tooth that must be removed, an extraction will need to be performed first. In most cases, the extraction site must heal before the implant can be placed. If any other preparatory procedures are necessary, your doctor will discuss them with you before beginning your treatment.
The day of your implant surgery, you will be escorted to one of our comfortable treatment rooms. The typical treatment timeline involves:
Anesthesia: To ensure your comfort, the gums will be numbed with local anesthesia.
Incisions: Your doctor will create a small incision in the gums to access the jawbone.
Implant placement: After preparing a pilot hole to the proper depth and diameter, the implant will be placed into the jawbone.
Sutures: The gum tissue will be sutured closed over the implant.
Healing period: Once the implants have been placed, the bone tissue fuses to the implant surface. This takes approximately three to six months.
Abutment placement: After fusion is complete, an abutment (small connector piece), will be placed on top of the implant. This will extend slightly beyond the gum line so your crown, bridge, or denture can be attached.
Impressions: Once the gums have healed, your dentist will take impressions of the abutments and surrounding teeth. These will be used to create your final restorations.
Placement of final restoration: Finally, your custom-made restoration will be connected to the implant. The result is a beautiful, functional, healthy smile.
What Can I Expect after My Dental Implant Procedure?
After dental implant surgery has taken place, some discomfort is to be expected, but this side effect should start to diminish within the first few days. Your oral surgeon may prescribe certain medications to help alleviate pain. Your oral surgeon will monitor your progress routinely to make sure you are healing properly.
Because every case is unique, recovery time will vary. There are certain circumstances that affect recovery from dental implant surgery, including:
The number of teeth extracted
The number of implants placed
Whether bone grafting was required
Your body's natural capacity to heal
After your dental implant surgery, it is important that you contact your oral surgeon with any issues, concerns, changes, or problems that you experience during recovery. We will arrange to meet with you as soon as possible to identify the cause of the problem and provide a prompt solution.
The Benefits of Dental Implants
Individuals who choose dental implants can experience a wide range of benefits:
Improved appearance: Dental implant-supported restorations are not your natural teeth, but they are the next best thing. Once placed, implants will keep your restorations firmly in place at all times for a totally natural look.
No jawbone recession: When a tooth is lost, bone atrophy occurs in the area over time. Dental implants restore missing tooth roots to provide the stimulation necessary to stop jawbone recession.
Durability: Although your dentures, bridge, or crown may eventually need to be replaced, dental implants can last a lifetime with proper care.
Enhanced self-confidence: Dental implants allow you to speak clearly and look your best, which can provide a significant boost in confidence.
Enjoy all the foods you love: Because implants make dentures as stable as natural teeth, you can eat a juicy pear, a rare steak, or any other foods you choose.
Learn More about Dental Implants
Are missing teeth compromising your quality of life? If so, find out what dental implants can do for you. Dr. Fatse is a fellow of the Academy of General Dentistry, a distinction that less than five percent of all dentists have obtained. Dr. Scovic is a member of the American Academy of Implant Dentistry. Both are recognized for their specialized training and advanced capabilities in the realms of cosmetic and restorative dentistry. To schedule an appointment, contact us online or give us a call at (203) 268-5051.