Dental implants are prosthetic tooth roots that are typically made of titanium. They are widely regarded as the best teeth replacement option available today. At our Monroe, CT, practice, Drs. John G. Fatse and John S. Scovic can complete all phases of dental implant treatment in one convenient location. Here, we will explore the dental implant treatment process as well as benefits and candidacy.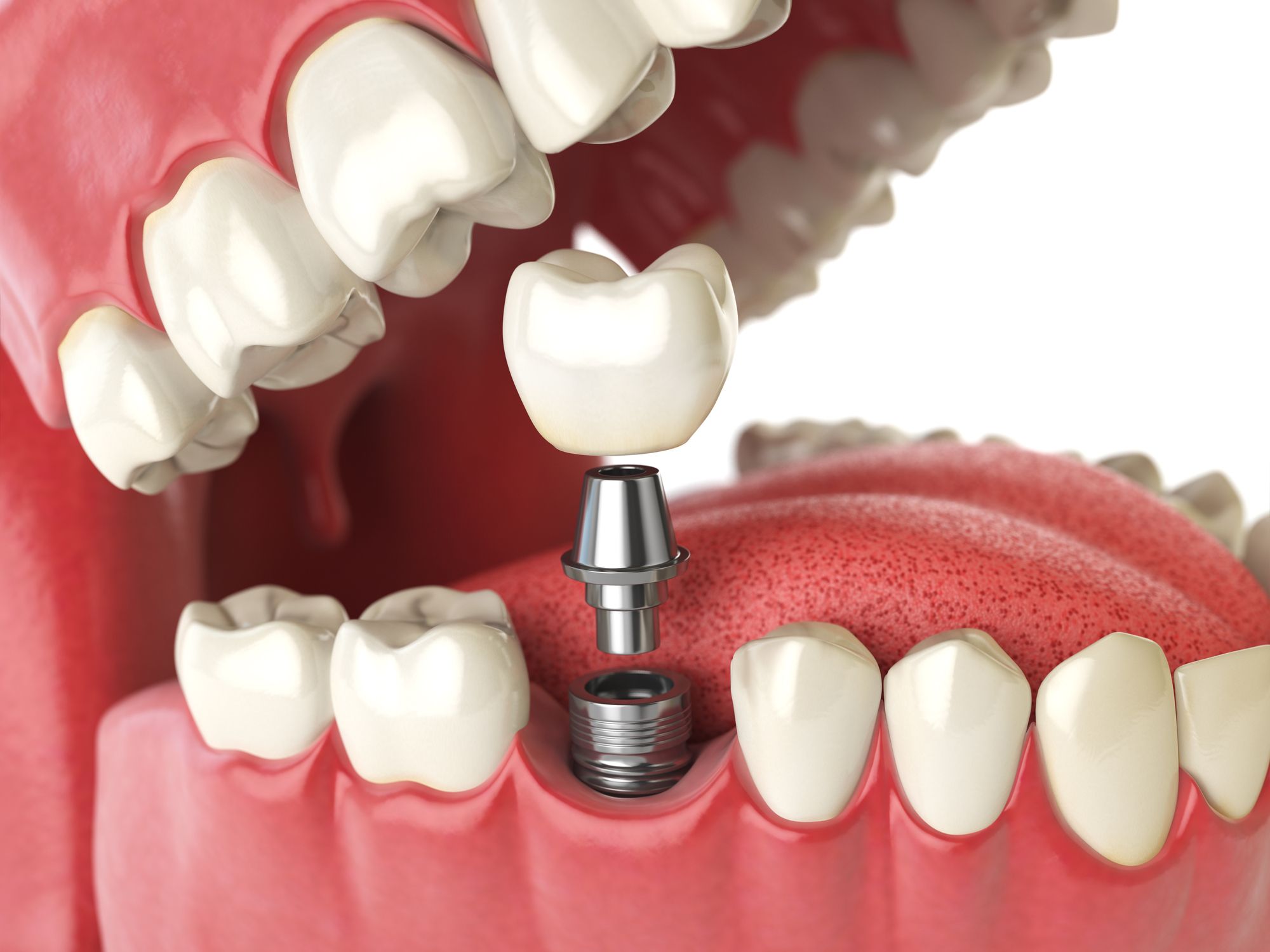 Am I a Candidate for Dental Implants?
Patients in good general and oral health are typically eligible for dental implant treatment. Candidates should be free from gum disease, extensive decay, and other serious dental issues. In addition, they should not have any health conditions that would compromise the healing process or make surgery a risk, such as uncontrolled diabetes.
Individuals considering dental implants should not smoke and must have sufficient bone density and volume. If you are lacking adequate bone tissue, a bone grafting procedure can restore your eligibility for implants.
Because implants make dentures as stable as natural teeth, you can eat a juicy pear, a rare steak, or any other foods you choose.
What to Expect during Treatment
Before you can undergo dental implant surgery, your doctor must see you for a comprehensive examination. During this visit, Dr. Fatse or Dr. Scovic will assess the health of your teeth, gums, and jawbone. Next, a personalized treatment plan will be created to meet your needs.
The day of your implant surgery, you will be escorted to one of our comfortable treatment rooms. The typical treatment timeline involves:
Anesthesia: To ensure your comfort, the gums will be numbed with local anesthesia.
Incisions: Your doctor will create a small incision in the gums to access the jawbone.
Implant placement: After preparing the site to the proper depth and diameter, the implant will be placed into the jawbone.
Healing period: Once the implants have been placed, the bone tissue fuses to the implant surface. This takes approximately three to six months.
Abutment placement: After fusion is complete, an abutment (small connector post), will be added to the implant. This will extend slightly beyond the gum line so your final restoration can be attached.
Placement of final restoration: Finally, your custom-made restoration will be connected to the implant. The result is a beautiful, functional, healthy smile.
The Benefits of Dental Implants
Individuals who choose dental implants can experience a wide range of benefits:
Improved appearance: Dental implant-supported restorations are not your natural teeth, but they are the next best thing. Once placed, implants will keep your restorations firmly in place at all times for a totally natural look.
No jawbone recession: When a tooth is lost, bone atrophy occurs in the area over time. Dental implants restore missing tooth roots to provide the stimulation necessary to stop jawbone recession.
Durability: Although your dentures, bridge, or crown may eventually need to be replaced, dental implants can last a lifetime with proper care.
Enhanced self-confidence: Dental implants allow you to speak clearly and look your best, which can provide a significant boost in confidence.
Enjoy all the foods you love: Because implants make dentures as stable as natural teeth, you can eat a juicy pear, a rare steak, or any other foods you choose.
Learn More about Dental Implants
Are missing teeth compromising your quality of life? If so, find out what dental implants can do for you. To schedule an appointment, contact us online or give us a call at (203) 268-5051.
"What a great dentist! I have been coming here for years and he never disappoints. The staff is friendly and knowledgeable, the doctor is very flexible with his appointments, and he's speedy yet thorough. I would recommend him to anyone in the area!"

Kristen L.