CEREC® Technology Can Create Same-day Dental Restorations
Chairside Economical Restoration of Esthetic Ceramics, or CEREC®, uses high-quality ceramic materials to create beautiful, natural-looking restorations to repair and strengthen damaged teeth. Dr. John G. Fatse and Dr. John Scovic can offer unparalleled accuracy and speed by creating same-day restorations with CEREC® technology at our Monroe, CT, office. The machine allows our doctors to design, create, and place dental restorations in just one visit. We have provided over six thousand CEREC® restorations for our patients, giving us the experience to provide outstanding results with this advanced technique.
How CEREC® Works
After your tooth has been prepped for you restoration, your dentist will use an intraoral camera to take digital impressions. Based on these images, the CEREC® software creates a virtual model of your smile. Your dentist uses this model to design your custom restoration. This design is then sent wirelessly to our in-office milling unit, which will create your restoration in as little as 15 minutes out of ceramic matched to the shade of your natural teeth. Once your restoration is finished, your dentist can affix it to your tooth to complete your treatment.
Perhaps the greatest benefit of CEREC® technology is the speed and accuracy with which we can create your restorations.
Procedures that Utilize CEREC® Technology
CEREC® technology allows us to create some of the most common restorations patients require with speed and precision. Our CEREC® machine can create any of the following:
What Else Can CEREC® Technology Do?
If your tooth is chipped, cracked, or otherwise broken or damaged, we can repair it using a custom-made restoration with our CEREC® machine. The specific type of restoration you receive will depend on the extent of the damage. More severe damage will require a crown to give your tooth more strength and stability. Porcelain veneers, however, are excellent for concealing minor chips and cracks on front-facing teeth.
Benefits of CEREC®
Perhaps the greatest benefit of CEREC® technology is the speed and accuracy with which we can create your restorations. In a single appointment, we can repair your smile. Another advantage of CEREC® technology is the use of ceramic to create restorations. Even though there is a wide range of other materials available, ceramic is one of the strongest options.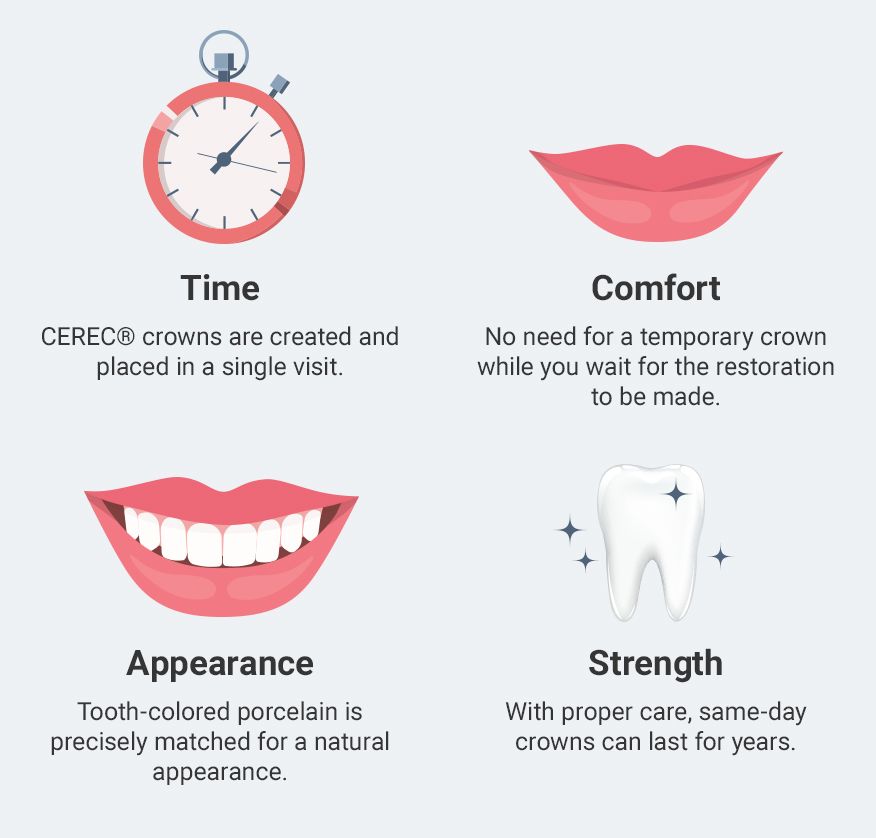 In addition to the strength it lends to your teeth, the ceramic is also customizable to match the rest of your smile for a completely natural look. Because of the precision the machine allows, CEREC® same-day restorations are more durable and longer lasting than many restorations created and placed with more traditional methods and materials.
Schedule Your Appointment
We are proud to offer our patients the quality and convenience of CEREC® same-day restorations. If you need a crown or other restoration to repair a decayed or damaged tooth, contact our dental office today to schedule an appointment.